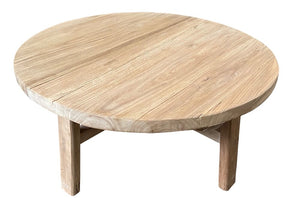 Crafted from raw, hard timber, this coffee table boasts a natural look and feel that's sure to impress. Bring the warmth and beauty of nature to your living space.
Features:
Sustainable - Made from recycled elm, this coffee table is an eco-friendly choice that's good for the environment.
Unique - Each piece of timber has its own unique markings, making your coffee table a one-of-a-kind masterpiece that's truly special.
Versatile - With its neutral tones and timeless design, this coffee table complements a wide range of decor styles, from rustic to modern.
Our Reclaimed Elm Coffee Table is a truly exceptional piece of furniture that's sure to become the centerpiece of your living room. Add it to your home today and enjoy the beauty and sustainability of natural materials.
Dimensions:

100cm (D) x 46cm (H)
Discover:
The cross back dining chair pairs perfectly with our Hampton Sofa.
Discover our full range of solid Elm Wood Furniture and Hamptons style furniture for other pieces that will perfectly complement this versatile coffee table.