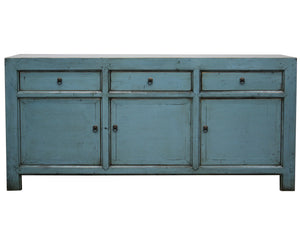 Whether you are hosting a dinner party or simply need extra storage in your dining room, the Lacquered Buffet 3 Drawer 3 Door in Blue is the perfect choice. This lacquered buffet is from China and is sure to impress with its impeccable craftsmanship and unique design.

Crafted with a solid elm frame and doors, this lacquered buffet is both durable and stylish, built to last and withstand everyday use. The high-gloss finish of the lacquer adds a touch of elegance and sophistication, making it a standout piece in any room.

Please note that due to the technique of the paint and lacquer finish, the colour of this buffet may vary slightly. If you would like to see the exact shade of blue before making your purchase, please do not hesitate to contact us.
Features:
Solid elm frame and doors
Lacquered high-gloss finish
Spacious storage with three doors and three drawers
Dimensions can vary slightly (cm):
180w x 45d x 85h
Discover:
Our lacquered buffets come in a range of sizes and colours - discover the full range of buffets and cabinets.