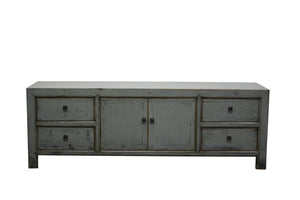 Achieve the ideal balance between elegance and practicality with our exquisite Grey Lacquered Elm TV Cabinet. Crafted from solid elm wood timber, this cabinet radiates a natural charm that is emphasised by its lustrous lacquered grey finish.
Features:
Exceptional sturdiness and durability due to the use of premium quality solid elm wood timber.
A sleek, sophisticated, and high-end look is achieved with the lustrous lacquered grey finish.
The ample storage provided by the cabinetry ensures a tidy and organized entertainment area.
Dimensions can vary slightly (cm):
170w x 42d x 58h
Discover:
The lacquered elm tv cabinet pairs perfectly with our Elm Coffee Table.
Discover our full range of Hamptons style furniture to achieve a relaxed, understated elegance.